Please note this post is based off my book. You can download it here or read this post.
ClickBank.com / Affiliate Marketing
Click bank is a marketplace where it connects affiliates and vendors. The commission is really high about 80% because most vendor offer info-products (Information or a course). These info-products cost close to nothing to create, that is why the commission is really high. Another reason is that the vendors are willing to give you money for an email because a lifetime customers are really valuable. You do not have to deal with customers, shipping orders, or any services as when you make the sale you get paid and the vendor deals with the customer. The vendor spent thousands of dollars and hours creating his product, testing it, hiring designers, paying for cost, delivering the orders. As an affiliate marketer all of the hard part is done, all you have to do is sell the product.
Set it and forget it
This business model is a "set it and forget it" model. You need to spend some time building this system (Sales funnel) at first, and once it's up on the internet it will be up forever and it will only grow. Instead of working 8 hours every day you just need a few days to set this system up and it will pay you in the long run with a passive income, you need patience, and money will keep on coming in.
Passive VS Active income
Passive Income – Income that you get by doing "nothing." An automated system is set up that will generate your income by literally doing nothing. Getting paid with no effort at all.
Active Income – Income only comes in when you do "work". This type of income is not automated which requires work in order to get paid. (9 – 5 Job)
| | |
| --- | --- |
| Online Business Brick and model · Automated · Open 24/7 · Work from anywhere · Time and location freedom · Passive income · Small startup cost · Future model of business · Stressful · Only local customers · Hours of operation · No free time or location freedom · Active income · Huge startup cost · Consistent work · Old business model | |
Email Marketing
Case Study : Email is the number 1 best and effective way to reach customers. Affiliate marketers are most likely using their email list to promote and make a passive income online.
Case Study : Email has $40 ROI (Return of investment) per dollar spend. Email marketing works 20 x better than Banner Ads, and 2.4 x better than PPC (pay per click).
Email is the most important and most effective way to get traffic that converts, and out beats ANY paid advertisement and paid traffic.
An affiliate marketer whose revenue is $10.5 M, $9.8 M out of the $10.5 M came from email marketing which is 93.33%. Without email marketing, 93.33% of his revenue would not exist.
Benefits having an email list: Lifetime customer
Having an email will give you a lifetime customer. If the customer does not purchase your offer, well you have their email and you can retarget them again with a different offer, you will have an email list that will convert your affiliate's offer making you sales. An average person takes 4-5 times to see or think about the product before purchasing. Instead of doing a one-time sale you will have returning customers, as repeat customers builds a real business. You can't survive on one-time sale, you won't last really long.
Sell your emails
When you have a big list of emails you can promote other people's offers to your list and make money per email. An email is worth about $1 a month. You can find many networks to sell your emails I would recommend udami.com. When you build a big list you can sell 100 clicks for about $50-$100. sending emails to your list and getting paid for it is called SOLO ADS (we will get into in the next chapters)
EXAMPLE 1 :
Let's say each email/subscriber you have is worth $1. 40% of your visitors opt in (subscribers) and you get 100 visitors a day.
Within a month you will get 3,000 visitors with 100 visitors a day.
With a 40% opt-in rate that is 1,200 emails which is $1,200 in value.
With your email list, you can promote other people's offer that they are willing to pay on http://udimi.com/ and make a fortune.
EXAMPLE 2:
Let's say we've got a list of 5,000 emails and we send a promotion of the products with the price of $25
Let's say the conversion rate is 1% of 5,000 emails = 50 subscribers bought the product
50 subscriber x $25 = $1,250 with just one simple email with only 1% conversion rate. Conversion can vary between 2-6%. The higher the conversion the more sales you will make.
A case study was reveal that sending out one email can make you $5,000 depending on the size of your email list. If you're making $5,000 on your email list and you send out 3 emails a week and sell at least $5,000 a week that is $20,000 a month.
Automated Sales Funnel (Autopilot Money Making Machine)
This is just a basic diagram overview, we will go in-depth in the next chapters
1. Niche
Before you start making money you will have to pick a niche that you are willing to learn or know a lot about. I would recommend going into a niche that you have a lot of knowledge and passion. For example, I know a lot about affiliate marketing which is my "niche". The biggest affiliate marketing niche is "the how to make money online" and "health and fitness". You can dive deeper into my "niche" for example my niche is "how to make money online", a few niches that are more specific are: "make money selling on amazon", "make money by affiliate marketing", and the list goes on. In health in fitness, your niche can be a certain type of diet. Take your time and use google to find your niche.
2. Landing / Squeeze Page + Overview
This is a page where someone gives you their email. The conversion rate of them Opting in (subscribing) is about 30% to 60% depending on your targeted traffic and your landing page. Create a free ebook or anything free in value in exchange for emails, this will INCREASE your opt-in rate. Chance are you have seen these. As you can see they are offering a free brochure in exchange for your information on the landing page below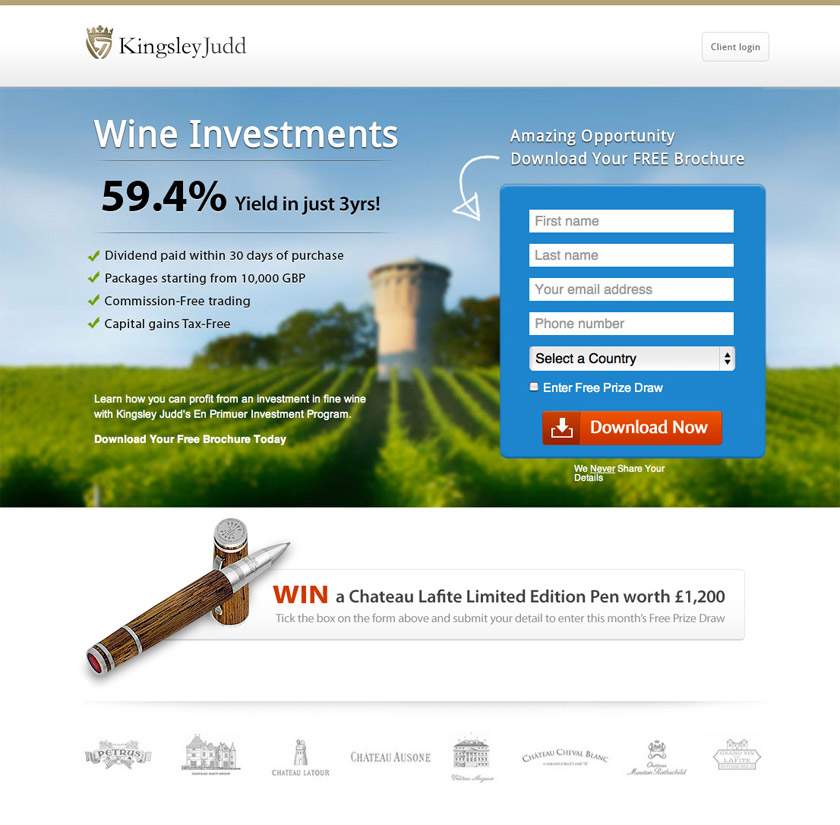 3. Subscriber/email Overview
Once you get your subscriber's email from your landing page this has a huge value, as you can send them multiple offers. Create a good relationship with the customers. This is where you will be getting your money. An auto responder is a system that will automatically email your subscribers offer/product in sequences of emails right when they first sign up. This will build a relationship with your subscribers and create an autopilot money making machine.
4. Thank page/One time offer page
Many landing pages just sent their customers right to the thank you page after they have signed up. You can make money on this page rather than send them to a useless thank you page. After they have signed up send them to a one-time offer product (can be a Clickbank offer), this will monetize your thank you page after the free offer. The page below is an example of a one-time offer page after you collected their email.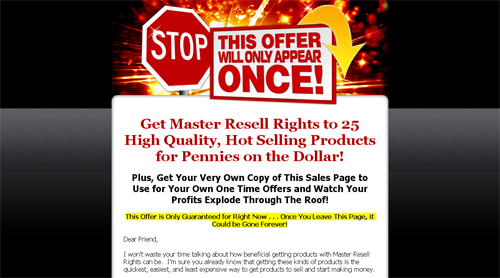 5. Traffic Overview
Send tons of traffic to your landing page to collect emails. Traffic is the most important factor in getting sales and emails. There is much free traffic you can get online such as social media and online communities. Paid traffic works the best and speed up the process, I'll explain more on traffic in the upcoming chapters.
The Sales Funnel (Autopilot Money Making Machine)
The diagram above is a representation of a sale funnel that will be created to generate income on autopilot. Every time you gain a subscriber they will fall into this "funnel" that converts them to trust in you by sending valuable and free content. Once you get their trust, the sale is made at the end of the funnel. This is the most effective way to generate a passive income. Many millionaires who make passive income online doing affiliate/internet marketing they are doing the exact same thing.
Landing Page > Free Offer > Get Email > Auto Responder Sale Funnel > Sales > Paid
Once you get this system you can simply use the same format on any niche, creating your own multiple streams of income from different niches is a great way to increase your income.
Building an Email list the proper way
Offer a free product or value in exchange for their emails (Landing Page)
Drive targeted traffic to your landing page (SOLO ADS Or Facebook ads, google ads, yahoo ads, bing ads) or free content traffic
After They Enter Their email send them to a one-time offer page (Clickbank offer)
Build an effective email sequence (Guide in the next chapters)
Send automated emails and offers to create a money making machine
Main metrics to be taken into account to generate passive income
Email list size.
Price and value of the product.
Conversion rate and traffic
With a bigger list, you can make much more. This is how Internet marketers make easy millions online. The conversion rate is the most important factor as it provides you with a quality list which equals to more sales. The number one factor why I see my clients or my students not getting sales is because of the conversion rate.
GUIDE (HOW TO CREATE THE SALES FUNNEL) STEP BY STEP
Things you need to get started
Time and effort
REQUIRES your time and effort in order to become successful, about 20-40 minutes a day. Trial and error (testing your sales funnel and landing page)
Internet access
An internet access is required.
Programs you need
Traditional used programs:
Domain, Hostgator (Click here) ($12)– Address to your site ex: makemoneyonline.com.
Hosting, Hostgator (Click here) ($5) – Server that host your domain and website.
Autoresponder (Click here) email list Aweber ($19/Month). – Auto email responder to your subscribers
HOSTGATOR.COM PROMOTION DEAL: Use code "excellzone" for $9.94 OFF, Use code "25offexcellzone" for 25% off
OR
Getresponse (Click Here) (30-day Trial) – all in one (domain, hosting, landing page creator, auto responder/ Email list) ($15/Month)
Domain 1And1 (99 cents) (Click Here) – You don't really need a domain only if you want to make your own blog/website in your niche.
Your welcome! Instead of spending your money on a domain($12), hosting($5), and auto responder($19). I would recommend Getresponse (Click Here) is the best choice as it's all in one just for $15 per month. This saves you $37! Get response include features like domain, hosting, easy response landing page creator which will get your site up in minutes, autoresponder, & split testing, much more VALUABLE features. The startup cost is only $15! Get your free 30-day trial today!
Getresponse (Click Here) (30-day Trial) Get response 30-day trial Now
1. Find a series of products to promote
Before you find a product look for a niche. I can tell you that 80% of sales comes from:
How To Make Money Online
Health & Fitness
Relationship
If you are stuck at this part, I would recommend this book with useful and valuable content to help you find the right money making niche for you.
Get it Now Click here! I highly recommend this book if you are having a hard time finding a niche.
"You want to get into Internet Marketing and make some money online – right? But you don't know of anything that you know enough about to sell to people – right? Ok, I'm here to show you how easy it can be. Don't get lost trying to choose a niche for your Internet Marketing career. Here are Three Easy Ways to choose a great niche that will keep you going profitably for years to come."
If you would like to promote health and fitness I would look deeper like promoting a certain diet plan. Browse through Clickbank and browse whatever category that matches your niche. As you can tell my niche is "How To Make Money Online". Find a series of offers (1-5 offers) that you think your subscribers would purchase to solve their problems on whatever niche you're doing. The guide is on the next page.
How to use Clickbank
Sign up for an account (It's free) Visit clickbank.com
Go to the marketplace (where you will find all affiliate's offer)
On the left-hand side, you will find a list of categories that you can promote. Pick your niche or anything that is related to your niche
Once you found your category you can filter the search to anything you wish.
Look at the stats before you pick an offer, make sure the payout is good.
Initial $/sale: This is how much you would first make if you made a sale
Avg %/sale: The percent of commission per sale
Avg Rebill Total: This shows that if the product you offer is a subscription. Every month you will get paid per 1 customers who decide to make the monthly purchase. If you want to make a lot of money I would RECOMMEND finding a product that will have monthly payments, so one sale will get you monthly commission
Avg %/rebill: Shows the percentage of customers who made the monthly payment
Grav: You want something over 20+ showing that there is competition meaning that affiliate marketers are making money off the product which proves that it will convert sales.
"Gravity gives you an idea of the "number" of affiliates who successfully made a sale in the last 3 months. It does not depict the actual number of product sales. If you make a sale today, you contribute 1 gravity to a product and then it will go slowly to 0 in 12 weeks. You can only give at most 1 gravity to one product."
Take your time and find a few offers that are related to your niche that your subscribers are willing to pay
The best tool for clickbank. Helps you find products & great selling products.
Full access to product performance graphs, stats and ranking histories
Bookmark System – manage products you're currently promoting or interested in
Custom Search Results (choose what you want to see)
ClickBank Affiliate Insider – recommendation system for hot products
ClickBank Nickname Manager – with 1-click login to clickbank.com
Find Products w/ Advanced Search Features
ClickBank Adsense Style Ads for your website
ClickBank Storefront 2.0 (php script for your website)
2.Landing Page
In your lifetime, you probably stumbled upon a landing page that popped up and a video playing and you hear "how I make $1,000 a day" enter your email now for free access. Let me tell you that those landing pages work although it looks a little sketchy. There are people who make $100,000+ per landing page and the best thing is that they have more landing pages which take about 30 mins to create.
Here is an example of a good landing page that I've found online. This is why this landing page is great (landing page above)
The landing page offers something in value (Free report) in exchange for their email
Simple page with no distraction
Main bullets on why you should get it
DO NOT SEND TRAFFIC TO AFFILIATE LINK
Always send traffic to YOUR landing page and capture their email instead of giving your affiliate the sale and lifetime customer (email). If you do not collect emails and rely on paid ad campaigns for your affiliate's link, I am not saying it's a bad method but what happens when you get kick off facebook ads, google, and other paid traffic services you will pretty much lose your income from thousands to ZERO. And you also lose your subscribers because you are not collecting their emails but instead you're giving it to your affiliate. If you had their emails and you were kicked off, you still can make sales or a new website just by clicking one button emailing your list. A real business builds on repeat customers, not one sale. Email marketing is a powerful and effective method. Like I said before Email marketing the most effective type of advertisement to reach your subscribers. Here are some flaws of promoting your affiliate's link instead of capturing their email first:
Google, facebook, or any paid traffic source may kick you off. (chances of losing your source of income from thousands to zero in one second)
The lifetime customers are not yours.
The offer may be taken down
Changes the commission
Create a free product (Ebook) On your Niche
Many affiliate marketers with a landing page do not give anything in value in exchange for their emails, this is a big mistake. Some landing pages only include "Sign Up Now" which lowers the conversion rate. You want to offer something in value in exchange for their emails. For example, you can give away a free book, video, free trials, free report, or anything that would engage the person to give you their email. With an offer of value in exchange for their email is a MUST to convert traffic. You can easily create an ebook or report just by copying data and complying into a book. (Make sure the content is not copyrighted or provide a link to your resources.)
Things you need on your landing page.
Make sure there is no distraction on the page, get to the point. Offer a free book or something of value that will make them give you their email. Keep the landing page nice and simple. After they submitted their emails send them to your page with a Onetime offer monetizing the thank you page, instead having a useless thank you page(this all will be shown below)
However, this guide does not require you to create a website. All you need is Getresponse
sign up and under "landing pages" select "create" CLICK HERE
Choose your template for your landing page
Customize your landing page to your likings. Offer your free product and include the main bullets that you will provide after they give you their email. For example, "We will email you our free ebook, enter your email here". Play around with the design and test what works for you. Also, add the main benefits of your free offer.
Fill in the information needed: the title and domain name. (make sure your "choose campaign" section is connected to your auto responder email campaign. You may want to skip to the next step to creates an autoresponder and come back to this step) Congratulation! Now you have a landing page up and running.
Congratulation! Now you have a landing page up and running.
LandingPageMonkey (Click Here) Builds an effective landing page converting sales, great add on for Getrepsonse.
Faster – Great results FAST! Our attention grabbing, video background landing pages out convert regular pages by up to 40%. That means more leads with the same traffic but in less time!
EASIER – Use any hosted video from services like YouTube, Vimeo, Amazon S3 or your own server. No tech skills required, no inflexible templates to edit – It's just point & clicks easily!
FREE – Landing Page Monkey is an all-in-one web-based solution – Edit pages on the fly inside your dashboard, no other software or tools needed. We'll even host your pages 100% FREE!
Integration – Works with all autoresponder services… Integration with your AR system is a breeze! Whatever service you use, Landing Page Monkey works withEverything!
3. E-mail Autoresponder (SALE FUNNEL) (AUTOMATED MONEY MACHINE)
To become a successful affiliate marker, you will absolutely need an email list as it's your customer base. When your subscriber makes their first purchase it's a sign that they trust you. Before you start sending your emails, make sure they're not too SPAMMY. What I mean by this is don't try to sell them products right away. On average it takes 4 times for customers to make the choice of purchasing. What you want to do is for day 1-4 offer them VALUABLE free information or even a bonus. On day 5-6 you can start sending them an offer, but let them know that it is a sale for a limited time. Once your subscriber signs up the automated email responder will do the work.
TIP : On Mondays and Thursday are the most common days that people make purchases. Send the emails in the mornings or at the end of the day so your emails get to the top. This requires testing and see which results work the best.
TIP : Only email your subscribers on Mondays, Wednesdays, and Thursdays (usually want to sell something on a Thursday). A great time is to either email it first thing in the morning (8am) so they can see your email offer right away, or send it at night (9pm) when your message is at the top of their inbox. It all depends on your list. Remember this can be automated all you need to do is to invest a few minutes in setting it up with getresponse
Email sequence (sale funnel)
The goal is to build a relationship between your subscribers. Most internet marketers who are starting out tend to be too greedy with the emails. You do not want to send multiple emails trying to sell them something, that would mark your email as spam or they will never open your emails. Treat them like how you wanted to be treated. The key is to offer them value on each email you send, you do not want to keep sending them offers and not providing value which will lead them to unsubscribe from your list. You can send something as simple as a useful article, content, tips, video or anything that offers your subscribers value to build a relationship. After a few emails, your subscriber will get to know you better and they start to trust you. After 5-6 emails then you can start promoting a product. Remember you will not always sell the product on the first try. After testing with my list I've tweaked it and I would like to share it with you for free. At the end, the "relationship" is making you the stream of passive income not "the list"
A case study was made that people usually check their emails on Mondays and Thursday at 8AM and 9PM. I've provided the exact sequence that I have on my auto responder which is making me a great amount of sales each day. Plug in your niche with the template provided and you will see results and sales.
Sequence Table
Table 2 – Email Sequence Secret Formula
Email 0 – Right when they subscribe you want to send them the free offer and introduce yourself or your company.
Email 1 – Free valuable information (anything that gives them value such as videos, post, and free bonuses based on your niche)
Email 2 – Free valuable information (anything that gives them value such as videos, post, and free bonuses based on your niche)
Email 3 – Free valuable information (anything that gives them value such as videos, post, and free bonuses based on your niches)
Email 4 – Free valuable information (anything that gives them value such as videos, post, and free bonuses) Let them know that you will be offering a valuable product in a couple of days
Email 5 – Offer your subscribers a product or services and let them know that there is a sale or limited quantity (makes them decide quickly).
Email 6 – Let your subscriber know that today is the last day for the sale.
Email 7 – Free valuable information (anything that gives them value such as videos, post, free bonuses based on your niches) or an offer.
Offer your subscribers the lowest price product in the first email, example if your subscriber buys a $25 product then you want to promote a better and higher price product for the next offer. Have an upscale of offers.
Example : Free> $5>$25>$150>$500>$1500>$5000
Repeat the same thing every week but with different content and products from your affiliate's offer (Clickbank).
How to set up AutoreSponder with Getresponse
Getresponse (Click Here) (30-day Trial) Log in and select "create campaign" from the drop down menu on "your current campaign"
Create your campaign name.
Click the option "create Autoresponder"
Here you can see which days you would want to send. Day "0" should be an email for the free offer you are giving away, you will send them a download link to download .On day "0" You want to send them the free offer you provided like an ebook
Click "create a new email" to generate your message and offers to your subscribers.
Fill in the information needed. (You can use your own gmail.com, but it is recommended to use your own domain email yourename@yourdomain.com,) 1and1 for 99 cents! has the best price for a domain registration, you can find my guide on my website http://notajobincome.com
Pick the template you would like to use as your email page
Drag and drop and customize your emails to your likings. For the first email, you want to send your subscribers the download or link to your free offer. Once you're finished submit and save it.
Repeat steps from 4 – 9 to create a sequence of emails (free valuable content and click bank offers) so it will be automated when someone gives you their email. You can refer to the table above I've already given you the secret email sequence above (table 2 ).
After creating your sequence of emails, Drag and drop your emails to the days you want them to be sent and fill in the first of the required information.
Testing, trial, and error are required to test out your sales funnel. You would test this out by sending traffic to your landing page and collect emails and let your autoresponder do the work, let it run for about 2-3 weeks and view the results as you may have to change some things around to improve the conversion rate. Constantly monitor your email open rates to see the quality of your traffic so you can improve, also test the auto responder by subscribing with a different email to your list and view that your emails are not marked at spam. If you need a video guide, please visit our website http://notanjobincome.com
I highly recommend this product to help you build an effective email list in just 10 mins a day! Click here
COMPLETE and INSTANT ACCESS to My Build My List 5 Step Formula -(Value $497).
The most comprehensive step by step training for List Building in the market. Includes all 5 steps: From List secrets to the profit machines. You'll get every step INSTANTLY!
Your Personal Megaphone -(Value $147).
You'll get FREE 90 days Access to a premium account at Sendlane.com. This is your personal MEGAPHONE! Includes everything you need to contact10,000 people – Daily
The Business Wizard Technology -(Value $147).
Launch Unlimited Businessesin minutes. Custom Built, Drag and Drop technology that allows you to create any number of businesses in just minutes.
Daily Power Calls -(Value $497).
You'll be given access to a phone number that lets you dial in daily and receive DAILY COACHING. These calls include tips, tricks, and motivation for your online business.
BML Rebrander -(Value $297).
You'll take my book that took me 6 weeks to write. You'll use my book as your own, you'll give it away for free and let the book do the magic to drive sales through your links. All done with a click of a button!
Done With You Businesses -(Value $2997).
Your site, the graphics, the daily messages, and the best commission programs. I'm going to put you on theFAST START with this program, allowing you to have EVERYTHING you need to get started immediately. You'll get 10 to put you on the FAST TRACK!
If you found that my email sequence is not effective I would highly recommend Autoresponder Mail Genie just for $1.
Get a months' worth of high-quality profit-fulling and persuasive autoresponder emails each month.
4. Traffic to Landing Page & Tracking
Driving traffic/visitors is the most important part as it generates you sales and conversion. There are many types of traffic you can get: free and paid traffic. You can get paid traffic like facebook ads, google ads, bing ads, yahoo ads, or any paid traffic. Free traffic can be found everywhere such as social media, comment on a blog, free social media marketing, and so many ways. Drive traffic right to your landing page domain link you've created with getresponse in the previous step.
The main difference between paid and free traffic is the effort. Free traffic requires work and consistency daily which will take the time to grow traffic. It is slow because you are trying to make internet users find YOU, instead of you using paid traffic where you are finding them with advertisements. On the other hand, paid traffic brings leads and conversion faster rather than waiting for your free traffic to grow.
Paid Traffic
ALWAYS check and know your return on investment. If you have paid for traffic constantly monitor the visitors, CPV (Cost Per View), EPC (earning per click) , CPA (Click Per Acquisition) & conversion rate. Facebook will target your ads to people who are interested in your product and you can use their retargeting features which the ad will follow wherever they go depending on which page you tracked.
SOLO ADS (Best Source Of Paid Traffic)
Like I said before email marketing is the number 1 and best way to generate leads. If you do not have a list, you can pay someone that who has a list to promote your product or build your email list.
Solo ads are the best way to pay for traffic, it's better than facebook ads and other pay per click services. Like a said before Email marketing is the most effective way to convert sales. Solo ads are pretty much-paying people who already have an email list to send your promotion out. This is a perfect way to get sales and emails. The best network to sell to buy solo ads is udimi.com and safe-swaps.com. I would highly recommend using udimi.com to purchase your solo ads
I also recommend "supercharged solo ads" over at Great solo ads (Click here) only $7 as it provides with quality traffic with the lowest cost.
NEVER spend money on traffic that does not convert this will kill your wallet or you must be crazy. If you spend $400 on traffic and you get no results, you shouldn't even pay $400 in the first place, if 400 clicks you get do not convert, it's not like it's going to convert with the next 400 clicks. I would recommend spending a small amount on traffic and track your results (under $50) if you are getting a high conversion rate than no means spend more on the traffic. Track your results: CPA, ROI, EPC, CPA & Conversion rate to determine if your paid traffic is effective. (The definition on is page 54)
Free Traffic
Blogs/Websites and community
Join blogs and forums keep active by answering questions and comments. Yahoo answers are always a great way to promote your landing page for free, you just need to answer a few questions on yahoo on your niche leaving a link. Look at the screen shot below, the person answered the question and also added his affiliate's to make sales, most likely people who are in interested will click it
You can do the same thing on blogs, forums, or any platform that connects users based on your niche. You can do the same thing with blogs, you will have to use keywords to rank up your blog on google and search engines. Use google adword's key planner tools, which gives you all of the related terms to your niche that people search so they can find you easier on the search engine. Please visit our website if you would like a video guide and more information on google Adwords (notajobincome.com)
It Does Everything For You with just 60 seconds of work using instaniche
Reveals Hottest Niches & Most Profitable Keywords
Automatically Adds 100% Unique Readable Content
Automatically Optimizes & Monetizes
Instantly Builds Your Site & Skyrockets To Page One
SocIAl media
Social media is another great way to get free leads and traffic. You can make a YouTube video providing value (a helpful How-to video) with your link in the description. You can get high conversion by posting helpful or valuable videos like how-to and guides.
example. You are promoting Hostgator's hosting service. You would make a youtube video on how to set up a website and put your affiliate link in the description, chances are the people who watch your videos would like to know how to create a site, and when they buy hosting you get a commission every month just for one customer.
For all social media like (Facebook, twitter, Instagram, Pinterest) you can create a profile to page based on your niche. You want to search any pages that are related to your niche and start following/liking their followers. Chances are their followers are interested in your niche, once you follow them they will get a notification that someone has followed them, they will most likely check out your profile with your link to your sales funnel.
Like and share post, images, and information also use Hashtags. The free traffic is really time-consuming if you do not want to purchase traffic. You will have to do this daily for about 20 mins following pages/people, liking a post, and post something of your own content (blog) at least once a day.
SEO (Search Engine Optimization )
You can set up your own blog dedicated to your niche. Write new content related to your niche at least once a day. You would use google adwords' key planner tool to look up keywords on your niche. This is pretty much "content marketing", providing content to drive sales
I highly recommend SEO longtail Pro (click here) for keywords and SEO tool to improve your business on the search engine
Keywords Research – Long Tail Pro is FASTER than ever! I'm talking 8x FASTER than Market Samurai. Find up to 800 keywords per seed keyword – with the ability to capture literally thousands of keywords in seconds.
Competitors analysis – Save countless hours by having Long Tail Pro quickly analyze the top 10 results in Google for each of your keywords. Find out important SERP data like keyword usage in the Title and Meta tags, Domain & Page Authority, Moz Rank, Pagerank, # of Backlinks, Domain Age
Drill-down and filter the results in any number of ways, providing you with a hyper-target list of keywords based on the criteria you set.
Filter by keyword, suggested CPC bid, local and/or global monthly searches, advertiser competition and overall competitiveness.
6. Get Paid and monitor
Always monitor your sales, paid traffic, and other important aspects. You MUST know your numbers and statistic to improve your sales funnel to maximize income.
Once the sales funnel is set up, sit back, send traffic and wait for results and statistics. You MUST monitor the following in order to maintain a passive income:
CPC – Click per cost, for paid traffic constantly check the cost of per click and how much of that clicks is converting,
EPC – Earning per click, monitor earning per click was paid for, are you spending more money on ads/traffic than the return on investment? If so, start using another traffic source or change the targeted keywords, audiences, and interest.
Conversion – Rate in % of people opting in or purchases. look at the conversion rate as it's the most important. Monitor how many viewers and how many of them actually opt in or made purchases. typically, a conversion rate of 2%-5% is recommended to start earning a passive income with a big list
(# opt ins/ # total traffic) x100 = Conversion rate (2%+)
Traffic Source – Track the source of traffic to see which source convert the best. so you don't waste money on paid traffic that is not converting. There are many tools you can use like google analytics.
Track ROI (return on investment) – Use google analytics to track the return on investment
Track Getresponse.com statistic – Monitor the percentage of email opened because it shows the quality of subscribers in your email list. An open email rate of 35%+ is recommended.
Time and patience
Monitoring stats is really time consuming which can take up to a month to optimize it, but once you get it right money will start pouring in passively so it's worth the time.
Results
Now you have the information, your turn to take action! Share this book with your friends & family who would love to start making money online, always a great gift. I wish you the best and you will succeed. There are days that we don't even want to wake up or give up, DO NOT give up!, learn your mistakes and ALWAYS move on. ALL entrepreneurs are where they are at right now because of one thing, THEY DIDN'T GIVE UP AND MOVED ON no matter what. There you go! you've gain knowledge and the method on how to start making an autopilot passive income. You can create multiple landing pages to increase your income, or spend time and money to generate traffic to one landing page. Put in time and effort NOW the ending reward is AMAZING and LIFE CHANGING. TAKE ACTION NOW and change your life! Live it how you want it to anything is possible when you put your mind to it. Create your passive income now while the internet is still young before it gets saturated.
Mentoring and coaching are important
Why do you need a mentor or coaching? Most "how to make" money online course will offer you one on one mentoring and coaching. These are important because they will guide you into the right direction and prevent the same mistake that they have made and also speed the process. You got to understand that when you purchase these "course" You will get that value back which is knowledge. Most affiliate marketers have their own courses because they have been through downfall, and they can tell you what not do to which will guide you into the right direction fast and avoid doing the same mistakes. It takes a mentor to change the way you think and learns much more. You can always find answers on the internet on any questions like video series, programs, book, or coaching.
There are many full courses that you can find online for $40-$20,000. I know that seems a lot but look at this way, you will pay $40,000 for university and when you graduate what are the chances of you finding a job? With a small investment on the courses, you will be guaranteed to make a passive income or your money back, OR YOUR MONEY BACK! Did you hear me? If you didn't like the course or you see no results you can simply get a full refund
Recommended effective course
Here are a few courses that I've tried and highly recommend, if you see no results or you do not like it, 100% money-back guaranteed in 30 days, no risk! I've listed the best courses that I've used to get where I am today. I only promote products that benefit you at the lowest cost.
Affiliate titan (click here) ($7)
GoogleSniper (click here) ($1 by closing the tab and a window will pop up offering the $1 Deal! Take advantage!)
The End
I hope the information and method I've provided has opened your mind and show you the possibilities that ANYONE can start making money online TODAY! It only takes one person to influence another and I want to influence as many people as possible so they can live the life they always wanted. If you have any questions or you would like more free useful content, please visit our website at
Please note this post is based off my book. You can download it here or read this post.